Wild @ Rivers - July 2015
Click on the images to enlarge.
Diary Entry by Charmaine Cooper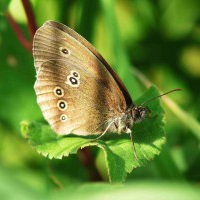 Ringlet Butterfly
Intense heat and very high temperatures entice a plethora of butterflies out to bask and feed. Marbled White, Ringlet and Small Skippers flutter and glide across the nursery scrub. After a frantic courtship flight two Green Veined White butterflies settle on the grass and begin to mate.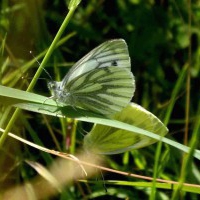 Green Vein Whites
The delicate pink flowers of the Common Centaury are blooming in the nursery scrub and a few are flowering in the meadow. Along the edge of the scrub the Blackberry bushes' pink and white flowers attract the wild Bees and several Ringlet butterflies. Even the occasional large Bumble Bee, the White Tail, is busy foraging among the scented flowers. Higher up, a Small White butterfly enjoys the chance to sip nectar from the bramble's many flowers. A bright Green Lacewing sparkles in the sunlight as it rests on the flowers of a shrub's fruiting head. A fidgety Essex Skipper rises up from the Wild Marjoram growing in the scrub and flies from flower to flower before settling briefly to feed and darting off again.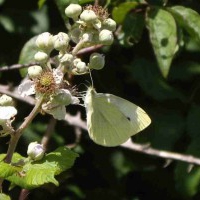 Small White Butterfly
In the orchard Meadow Brown and Ringlet butterflies skim across the purple heads of the Common Knapweed before settling on the lilac flowers of the Scabious plant, where they disturb a Small Skipper. The orchard is buzzing with the sound of Bees and the occasional sound of a Grasshopper can be heard. From the hedgerow trees the rapidly disappearing Yellowhammer sings while further along the path the Green Woodpecker rises up and, with its characteristic undulating flight, flies into the meadow. A Small Tortoiseshell butterfly dashes along the mown rides in the orchard where several Blackbirds are busy foraging.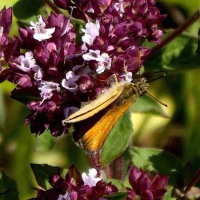 Essex Skipper
The orchard's meadow is drying in the heat and lack of rain but there is still a little colour from the Common Knapweed, the Common Centaury and the very low growing Lady's Bedstraw plant with its small bright yellow flowers that give off a delicate perfume, filling the air with its sweet scent. Hidden amongst the grass are the drying remains of the Common Broomrape, its skeletal red tinged scales withering. A Six Spot Ladybird wanders across the stems of the Knapweed as a large White Tail Bumble Bee descends onto the purple flower. Gatekeeper butterflies are now emerging and settle to dry their wings on sunlit foliage.
| | |
| --- | --- |
| Lacewing | Gatekeeper Butterfly |
---
Navigate through the Wild @ Rivers Diary Entries:     <<<Previous    Next>>>
Return to the wildlife home page.