History of Rivers Nursery
Some historic Rivers Nursery documents collected by our (and previous) groups over the years are now available electronically in our archives.
A full history of the nursery is available in the book "Rivers Nursery of Sawbridgeworth" published in 2009 by our own Elizabeth Waugh based on our archives of the family business and interviews with family and former employees. This book are available to buy. RHSO members are available to talk about the history of the site to other local groups. Contact the committee if you are interested.
Rivers Nursery dates back to 1725 when it was established by John Rivers who came to Sawbridgeworth from Berkshire. The very significant influence of the Rivers family on the history of Sawbridgeworth is permanently acknowledged and enshrined in the town's coat-of-arms which depicts a fruit tree garlanded with attractive blossom.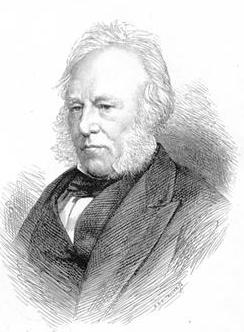 Thomas Rivers (1798-1877)
Thomas Rivers (1798-1877) took over the thriving family business in 1837. He became one of the most respected pomologists of all time. He corresponded with Charles Darwin on botanical matters and worked closely with Robert Hogg, whose status in the fruit world is second to none. Thomas Rivers developed a plethotra of horticultural techniques, was an early pioneer of fruit cultivation under glass, developed many fruit and rose varieties and helped restock the Californian orange industry. He authored many books on fruit and rose culitivation that still sell today, some of which can be viewed in our archives.
His son, Thomas Francis Rivers (1830-1899), continued the introduction of new fruit varieties including the Rivers Early Peach (apple), the Thomas Rivers Apple, the Late Transparent Gage, the Czar plum and the renowned Conference Pear (introduced at the National Pear Conference in 1885). All these fruit varieties (and many others) can be found in the Rivers orchard today.
The Thomas Rivers and Son Nursery declined through the the 20th centuary and was sold at the end of the 1980s as it was no longer commercially viable due to the rise of supermarkets.
At the height of its prosperity in the late 19th century, land owned or rented by the Rivers family for horticultural purposes amounted to approximately 400 acres. It is a remarkable fact that the 21st century remains of the orchard is only one-hundredth (1%) of this figure. It is a very significant part of the 'green lungs' of Sawbridgeworth, whose residents enjoy its appeal on many levels. Every effort must be made to ensure that this haven of enormous bio-diversity attracts, and is given, higher levels of security and stewardship.
Cultivars introduced by the Rivers Nursery
The nursery developed many cultivers of fruit, many of which are still available (EEAOP provides many on dwarfing rootstock). The following is an incomplete list complied principally from Rivers Catalogues, EEAOP website and FruitID. Click the links for further information about the fruit from external sites.
* indicates good garden variety (although check polination groups)
** indicates lost cultivar
Apples
Apricots
Cherries
Archduke
Early Rivers*
Peggy Rivers*
Ursula Rivers*
Nectarines
Advance
Albert Victor
Byron
Cardinal
Chaucer
Darwin
Dryden
Early Rivers
Goldoni
Humboldt
Improved Downtown
Lord Napier
Milton
Newton
Pineapple
Prince of Wales
Rivers Orange
Spenser
Stanwick Elruge
Victoria
White Nectarine
Peaches
Albatross
Alexandra Noblesse
Condor
Crimson Galande
Dagmer
Doctor Hogg
Duchess of Cornwall
Duke of York
Early Albert
Early Alfred
Early Beatrice
Early Louise
Early Rivers
Early Silver
Early Victoria
Falcon
Gladstone
Golden Eagle
Goshawk
Kestrel
Lady Palmerston
Magdola
Merlin
Nectarine Peach
Osprey
Peregrine
Prince of Wales
Rivers Early York
Sea Eagle
Thomas Rivers
Pears
Beacon
Conference*
Fertility
Magnate
Parrot
Princess
St. Luke
Summer Beurre
Plums and Gages
Admiral
Archduke
Autumn Compote
Blue Prolific
Blue Rock
Bittern
Curlew
Czar*
Early Rivers Damson
Early Cluster
Early Favourite
Grand Duke
Heron
Late Prolific
Late Rivers
Late Orange
Mallard
Monarch*
President
Primate
Rivers Early Damson
Rivers Early Prolific
Stint
Sultan
Sawn
Early Transparent
Golden Transparent
Late Transparent*
Raspberries
Redcurrants
Strawberries