Wild @ Rivers - June 2015
Click on the images to enlarge.
Diary Entry by Charmaine Cooper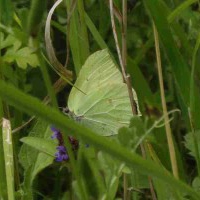 Brimstone Butterfly
The wet and windy start to the month soon changes to warmer milder weather. In the orchard a family of Long-tailed Tits bounces merrily through the dense hedge calling to each other as they search for insects hidden under leaves. A male Brimstone Butterfly flashes its bright yellow wings as it darts across the orchard's entrance, chased by a male Orange Tip Butterfly with its white wings tipped with bright orange. The breeze is warm and gentle as the butterflies flutter rapidly through the Apple trees.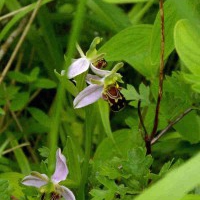 Bee Orchid
After a hot day a strong wind returns to the orchard's meadow and buffets a Large White Butterfly to the ground where it rests before fluttering off across the waving grass to seek shelter. Further into the meadow a large Bumble Bee is clinging to a tall blade of grass that constantly twists and turns in the wind.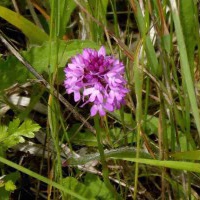 Pyramid Orchid
The orchard's mown footpaths have become open rides for the Butterflies as they move through it seeking nectar. The striking Ox-eye Daisy attracts tiny Beetles and various Bees to its golden yellow center. Tall stems of Cow Parsley gently wave in the breeze beneath the fruit trees. The whole orchard appears a froth of white from the flower heads of the Cow Parsley and Ox-eye Daisy. The sulphur yellow wings of the Brimstone Butterfly contrast against the white as it flutters over the flowers. A Speckled Wood Butterfly is joined by an Orange Tip Butterfly; both flutter off in the hot sunshine across the orchard.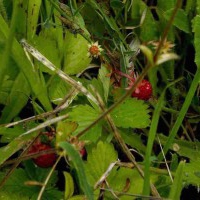 Wild Strawberries
After heavy rain and thunder, brilliant sunshine returns and newly emerged Meadow Brown Butterflies are flying in the meadow. Hidden in the grass are several Pyramidal Orchid spikes with their striking pink cones of flowers vivid amongst the green.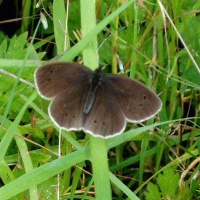 Ringlet Butterfly
In the nursery scrub there are more Pyramidal Orchids and Several Bee Orchids. The Bee Orchids are masters of deception as they imitate a Bee in the hope of enticing a real Bee to attempt to mate and thus aid pollination. However these particular Orchids are usually self pollinators. Ringlet Butterflies with their chocolate brown wings and golden rings on their underside are sunning themselves along the paths where several Wild Strawberry plants are fruiting, their tiny red fruits tempting to any bird or small mammal.
---
Navigate through the Wild @ Rivers Diary Entries:     <<<Previous    Next>>>
Return to the wildlife home page.