Wild @ Rivers - August 2015
Click on the images to enlarge.
Diary Entry by Charmaine Cooper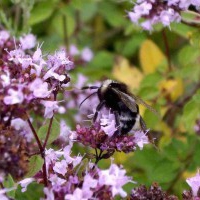 Bee on Marjoram
The day is warm but very breezy. The wind buffets the leaves and stirs the branches but there is shelter in the nursery scrub. Out of the wind and in the dappled sunshine Butterflies are enjoying the Wild Marjoram. The delicate pinkish flowers are covered with several Peacock and Gatekeeper Butterflies. A Small Blue and a Green Veined White Butterfly, a Hoverfly and a Bee are also foraging on the flowers of the Marjoram. Further along, the waving stems of the Golden Rod plants are starting to flower and their yellow flowers are attracting Hoverflies and the occasional Bee.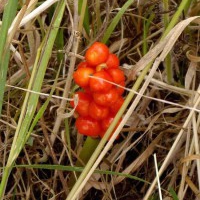 Lords and Ladies
The Orchard is quiet in the warmth of the sun and the sound of the buzzing Bees and singing Crickets drifts through the air. Behind the Cherry Trees two Great Spotted Woodpeckers are busy tapping on a decaying branch. Disturbed, the two birds fly up, displaying their black and white feathers and scarlet red patch on the back of their heads and uttering a high pitch tchik call in alarm. The Apple trees are laden with fruit but they are still small and unripe but the Plums are ripening quickly. Under the Plum tree the Lords-and-Ladies plant has grown a single spike of glossy orange berries. The Pear trees' fruits are green, hard and unripe as they nestle amongst the leaves.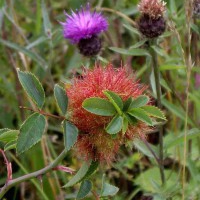 Robin's Pincushion Gall
A Kestrel plummets down from the wires that cross the orchard's meadow before quickly rising up to settle on the wires to consume its small prey animal. Along the meadow's hedgerow three Jays are startled from the footpath and screech their annoyance as they fly off into the shelter of the trees. Fluttering across the purple flowers of the Common Knapweed, where a Red Tailed Bumble Bee is busy foraging, is a Common Blue Butterfly. Another Knapweed plant is visited by a Small White Butterfly, a Ladybird and a Honey Bee. On the Wild Rose growing in the meadow a Gall Wasp has produced a red spiky nest for its single grub known as a Robin's Pincushion Gall. A very tatty Meadow Brown Butterfly rests on the meadow's grass, its wings open to absorb the warmth of the sun into its body. One of the last warm days before the rain and wind lash the meadow and orchard.

Bumble Bee

Common Blue

Green Veined White

Common Blue

Peacock Butterflies

Small White

Apples Ripening

Meadow Brown
---
Navigate through the Wild @ Rivers Diary Entries:     <<<Previous    Next>>>
Return to the wildlife home page.