Wild @ Rivers - Feb / Mar 2018
Click on the images to enlarge.
Diary Entry by Charmaine Cooper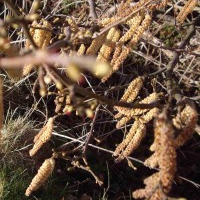 Hazel Catkins
Cold rain and snow have kept most of the wildlife in the orchard, meadow and scrub. They busily search for food in a fight for survival against the blasting cold snowy winds from the east. A time when the birds would be beginning to seek out territories, nesting sites and searching for mates are all put on hold as they battle the elements. In the meadow there is the occasional sight of a Rabbit as it forages beneath the snow for roots and grass. Birdsong is quiet; only the sound of the Green Woodpecker, startled from a mound of earth which it is excavating deeply to seek the Ants hiding deep below. The Woodpecker takes to the air, its plumage bright as it is in full breeding mode but like the other birds, nesting is delayed. Its flight path is swift and undulating, typical of the species. It reaches the telegraph pole in the meadow and clings to the wood, turning quickly so its body is no longer in view.
The orchard is still bare, the fruit trees still slumber. Buds are visible on the Apple trees, likewise on the Plum trees. A Great Tit calls across the orchard and a lone Wood Pigeon flutters up into the trees. Catkins dangle from the Hazel trees, dancing in the cold wind, their pollen drifting across to fertilise the red female flower barely visible on the neighbouring branches of other Hazel trees.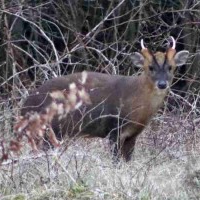 Muntjac
The scrub is dormant, only dead grass and bare trees, but the Muntjac deer manage to survive on what is there. Branches that are low to the earth are chewed for their nutritional bark and moss is scattered around as both birds and Deer search for food. Deep within the scrub the Muntjac Deer quietly forage. A female is browsing on shoots, her attention fully focused on feeding. Behind her a male Muntjac approaches. Suddenly the Doe runs for cover but the Buck freezes and stares directly at me, the intruder. The V shaped markings on his forehead and little horns or Antlers are clearly visible, a magnificent view. Unperturbed, the Buck remains focused for minutes before gently ambling slowly off grazing as it moves into the thicket.
---
Navigate through the Wild @ Rivers Diary Entries:     <<<Previous    Next>>>
Return to the wildlife home page.