Wild @ Rivers - May 2017
Click on the images to enlarge.
Diary Entry by Charmaine Cooper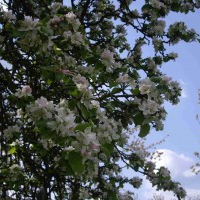 Peacock
The orchard's meadow has become a sea of green grass interwoven with the white fluffy seed heads of the Dandelion and golden Buttercups. Young Rabbits forage on the tender shoots and scatter rapidly when approached while the adult Rabbits linger before hastily retreating. The orchard's fruit trees have now all blossomed and the tiny fruits are beginning to form on some of the trees. The meadow's Apple trees are slower this year.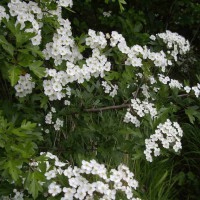 Hawthorn
Wandering into the nursery scrub the sound of bird song is beautiful in the warm sunshine. Chiffchaffs call across the scrub interrupted by the occasional burst of the Blackbird's trilling song. The Green Woodpecker's yaffle echoes within the scrub but the most wonderful sound to hear after the winter months is the gentle purr of the returning Turtle Doves. The elusive Turtle Dove is hard to spot in the scrub but its call is so distinctive.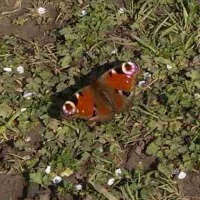 Peacock
Butterflies are enticed out into the brilliant sunlit glades within the scrub and flutter along footpaths. The Speckled Wood Butterfly with its brown wings and golden spots shimmering in the sun darts through the Hawthorn, briefly resting on a leaf before swiftly moving on. The Speckled Wood is at home in dappled shade and woodland. In the larger open spaces in the scrub. Where there is more sunshine the orange coloured Small Tortoiseshell has wandered in. Other Butterflies are also seeking the sun and warmth. The distinctive Peacock with its large mauve eyes on its wings and the Orange Tip with its white wings tipped with bright orange flutter quickly amongst the grass and are joined by the female Orange Tip with a beautiful grey- green mottled underwing to her otherwise white wings. The Hawthorn is now in full bloom and the bushes are covered in white froth that permeates the air with a delicious scent that attracts various Bees to visit for the sweet nectar.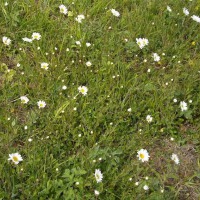 Ox-eye Daisies
The orchard's meadow is changing; the Dandelion Clocks are gone replaced by more Buttercups and patches of Ox-eye Daisy their large white flower heads seeking the sun as they wave in the gentle warm breeze.
---
Navigate through the Wild @ Rivers Diary Entries:     <<<Previous    Next>>>
Return to the wildlife home page.