Wild @ Rivers - July 2016
Click on the images to enlarge.
Diary Entry by Charmaine Cooper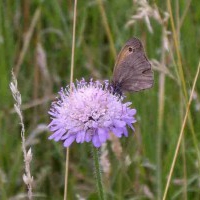 Meadow Brown
After a dismal start of cold, drizzle and torrential rain the sunshine finally arrives. The Butterflies are out enjoying the warm air and the chocolate brown Ringlet Butterfly flutters between orchard and meadow. The scented flowers of the Red and White Clover attract buzzing Bees drawn to the rich nectar source these plants offer. In the orchard the lilac coloured flowers of the Field Scabious are visited by the day flying Burnet Moth and Ringlet and Meadow Brown Butterflies that flit from flower to flower to sip the nectar with their long proboscis. The Common Knapweed, which resembles a Thistle but without thorns, has purple headed flowers on which the Marbled White Butterfly is feasting. This is a very attractive black and white Butterfly that favours both the Scabious and the Knapweed that grow in the orchard.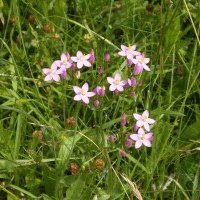 Common_Centaury
The tall yellow spikes of the Melilots are abundant in the meadow amongst the Prickly Sow Thistle and grass. A large Dragonfly skims across the tops of the grass seeking an unsuspecting insect or Butterfly. The delicate pale pink flowers of the Common Centaury and the purple flowers of the Common Knapweed are scattered throughout the meadow. The meadow is a beautiful array of colour at this time of year with the butterflies flying across the site. Meadow Brown, Ringlet and Small White Butterflies flutter and feed amongst the flowers and the occasional yellow male Brimstone Butterfly and Small Skipper dart through the meadow. Another Marbled White Butterfly is once again feeding on the Knapweed.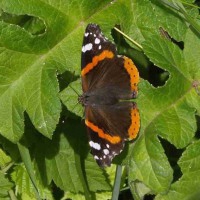 Red Admiral
The scrub is quiet; most of the Birds have finished nesting and are busy recovering from their hectic feeding of young fledglings; they are hidden away moulting and building their strength for winter. The occasional alarm call of Blackbird or Green Woodpecker breaks the still warm air. Underfoot the well trodden path is strewn with broken snail shells, evidence that the Thrush is busy feasting on the crunchy gastropods. A Red Admiral Butterfly settles briefly on the bare earth and basks in the sunshine filtering through the trees before flying up into the foliage to bask where it is joined by a Gatekeeper Butterfly also seeking a warm sunny spot. Large mounds of soil are appearing that are full of active Ants; these will later be enjoyed by the Green Woodpecker which will dig its large beak into the mound and devour its favourite food.
| | |
| --- | --- |
| Melilot | Burnet Moth |
---
Navigate through the Wild @ Rivers Diary Entries:     <<<Previous    Next>>>
Return to the wildlife home page.