Wild @ Rivers - March 2016
Click on the images to enlarge.
Diary Entry by Charmaine Cooper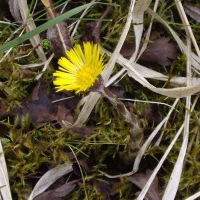 Colts Foot
After a cold morning, bright sunshine and calm weather encourage Rabbits to venture out into the orchard's meadow where they quietly graze until disturbed. White scuts flash as Rabbits scatter into the shelter of the scrub.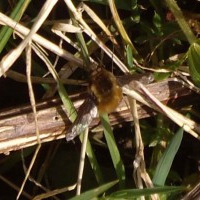 Bee Fly
There is a sudden explosion of beating wings as a large flock of Woodpigeons take to the air. As they pass over the nursery scrub their wings whistle softly in unison. The Woodpigeons slowly descend into the tall trees within the scrub and settle on the branches. Once again the Barn Owl is out hunting as dusk begins to fall, its powerful wings stretched wide as the bird quarters and hunts.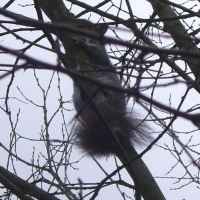 Squirrel
Overnight snow flurries pass, leaving a dusting of snow in sheltered corners. On this bright cold morning a Grey Squirrel scampers across the footpath, tumbling over as it hurries to dart up a tree where it clings to a swaying branch.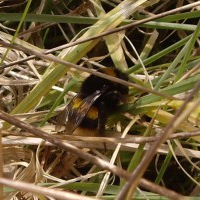 Bumble Bee
The weather has become warmer and the sunshine has encouraged Bumble Bees and two Small Tortoiseshell Butterflies to emerge. A Bee Fly has also emerged. Its soft ginger body soaks up the sun's warm rays as it rests on a patch of dry dead grass. A browsing Muntjac deer quietly wanders into the scrub as a Grey Heron passes overhead besieged by noisy Gulls.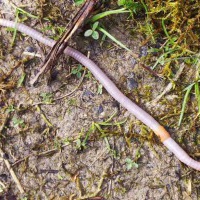 Earthworm
Storm Katie has passed and the weather is improving. Earthworms, driven to the surface by the deluge of rain, are vulnerable to predators. Wild flowers are opening. Cowslips are flowering in the orchard and meadow. In the nursery scrub the yellow flower of the Colts Foot is already open; a plant eager to flower first before producing leaves, its stem scaly and fleshy. Violets of white and purple hues are flowering in the orchard and the scrub. The mauve flowers of the Ground Ivy are opening amongst the green leaves that remained throughout winter. On this warm day the Kestrel is patrolling the skies, stopping to hover over the meadow as a Robin sings its territorial song from a nearby branch of the fruit trees. Spring has sprung.
---
Navigate through the Wild @ Rivers Diary Entries:     <<<Previous    Next>>>
Return to the wildlife home page.