Wild @ Rivers - October 2015
Click on the images to enlarge.
Diary Entry by Charmaine Cooper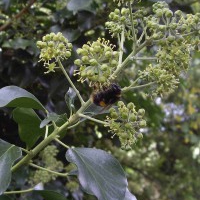 Bumble Bee on Ivy
A characteristic autumn day of golden sunshine and gentle warmth brings out the last of the Butterflies. Several Small White Butterflies dart across the meadow accompanied by the sound of the occasional Bumble Bee. In the hedgerow a solitary Bumble Bee enjoys the nectar of the flowering Ivy happily buzzing from one sticky green flower to another. The Ivy plant plays such an important role in the survival of Honey Bees and Bumble Bees at this time of the year and when the plant is allowed to mature and produce flowers and berries it feeds bees and birds throughout most of the autumn. On warm days the Ivy is full of insects and bees as they busily sip nectar.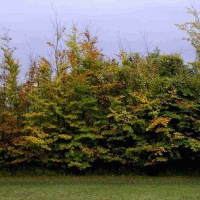 Beech Hedge
The leaves are beginning to change colour and fall and in the nursery scrub, as the foliage thins, the Muntjac can be seen browsing under the Hawthorn. Long Tailed Tits, Great Tits and Chaffinches flit through the trees tops, briefly settling on the tall Silver Birch, chattering as they fly. In the orchard's meadow Jays are collecting acorns from the young Oak trees, darting into the foliage and snatching as many as they can store in their crops before flying off to cache their hoard in the grass for winter. The meadow's Beech Hedge is turning golden. The Beech leaves are drying and start to rustle in the breeze, and as the wind becomes stronger the leaves are torn from the trees' tangled branches.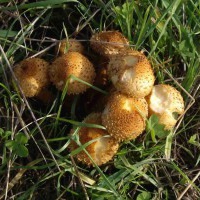 Fungus
In the orchard a Grey Squirrel bounds across the fruit trees disturbing a Woodpigeon foraging under the old Apple tree. A Buff Tailed Bumble Bee rises up from the grass as a Green Woodpecker calls in the meadow. Outside of the orchard the wind is cold but the shelter of the hedge protects the fruit trees and it feels a little warmer inside amongst them. The warm wet weather has encouraged the growth of Fungi and on the trees and scattered in the orchard's grass different species of fruiting fungi are growing. Overripe apples lie on the grass and over wintering birds will soon arrive to feed on the bounty; already in the last few days of the month the Redwing have arrived and their strange chattering call is filling the air in the scrub and orchard.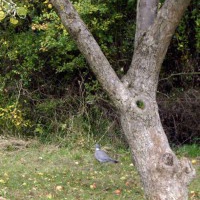 Wood Pigeon
---
Navigate through the Wild @ Rivers Diary Entries:     <<<Previous    Next>>>
Return to the wildlife home page.