Wild @ Rivers - June 2014
Click on the images to enlarge.
Diary Entry by Charmaine Cooper
After early morning showers the orchard's meadow is bathed in warm sunshine. A Kestrel perched on the wires watches insects or a mouse moving in the tall grasses below. The bright sun glints on the copper-brown feathers of the bird's back as it silently takes to the air and disappears over the scrub.
Speckled Wood butterflies dart amongst the shrubs in the old scrub, resting briefly on the Guelder Rose, before dashing off to another sunlit spot. The Wild Rose or Dog Rose is blooming; their delicate pink flowers adorn their sharp thorny stems. Small Tortoiseshell butterflies dance among the flowering bramble bushes that border the scrub, stopping to sip nectar from the white flowers that scramble through the prickly bushes. The migrant Red Admiral butterfly joins in the feast. The Turtle Dove's call, almost like a purr, drifts down through the air as soft and gentle as a breeze.
The fragrant scent of several Pyramidal Orchids growing in the orchard's meadow has attracted the attention of Large Skipper butterflies. Moths and butterflies are enticed by the orchid's delicate scent. Ox-eye Daisies shine like white stars in the grass and further into the meadow the Bee Orchid blooms.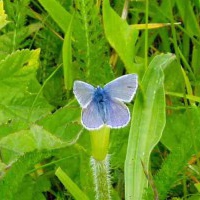 The strange flesh coloured plant, the Common Broomrape, nestling deep in the grass is visited by a female Brimstone butterfly which settles to roost. Meadow Brown and Ringlet Butterflies flutter above the grasses, occasionally settling to feed on the nectar of the yellow flowers of the Common Bird's-foot Trefoil. Several Common Blue butterflies descend on to the same plant sending the chocolate brown coloured Ringlet up into the air. On another clump of Bird's-foot Trefoil the day flying moth, the Burnet Companion, is busily feeding. Skimming across the tops of the flowers and grasses are Dragonflies and Damselflies. The larger Black-tailed Skimmer pursues the smaller more delicate Common Blue Damselfly across the grass before twisting away in pursuit of some other prey. Marbled White butterflies flutter from grass stem to grass stem in search of their favourite grass on which to lay their eggs.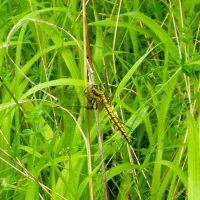 The orchard's Cherry trees have small ripening fruits on that are being greedily eaten by the birds. The Chiffchaff sings from the hedge as the Jay darts from tree to tree. The rustling grass hides many insects and several Meadow Brown, Speckled Wood and Ringlet butterflies emerge from the disturbed grass. Bees forage among the white flower heads of the Cow Parsley. The fruits of the apple and plum trees are slowly developing.
| | |
| --- | --- |
| Burnet Companion | Marbled White |
---
Navigate through the Wild @ Rivers Diary Entries:     <<<Previous    Next>>>
Return to the wildlife home page.