Wild @ Rivers - April 2014
Click on the images to enlarge.
Diary Entry by Charmaine Cooper
After the early morning mists melt away the day becomes warm and sunny. The rising temperatures bring forth an abundance of butterflies. Several Peacock butterflies bask on the sun baked mud of the meadow's footpath. In the old nursery scrub a returning Chiffchaff perched on the top branch of the Silver Birch tree calls to another Chiffchaff before darting upwards, its wings gently snipping together as it snatches an insect from the air. Further into the scrub a Yellowhammer rises up from the lush green moss that is under the newly emerging leaves of the Hawthorn. A Brimstone butterfly flits through the young bright green leaves to the gentle buzz of a White-tailed Bumble Bee. Birdsong fills the air on this beautiful Spring day.
The orchard has woken from its winter slumber and blossom fills the Plum trees. The grass beneath the trees is scattered with the yellow nodding heads of the Cowslip. In the meadow more Cowslips flower among the golden heads of the Dandelion. Peacock butterflies settle on the grass to soak up the sun's warmth and Rabbits amble along the footpath before disappearing into the scrub.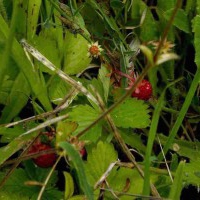 In the shelter of the nursery scrub Bee Flies hover before settling among the dried leaves and clover. Further into the scrub in a warm sheltered spot more Peacock butterflies soak up the sun's rays. Several Bumble Bees and a solitary Wasp buzz amongst the dried grass and moss before they disappear under the foliage. The delicate pink flowers of the Herb Robert plant and the purple of the Creeping Ivy flower along the footpaths attracting tiny flies and bees. The small white flowers of the Wild Strawberry have emerged among the Dandelions and grasses. Above, two Crows are mobbing the Red Kite as it passes over the nursery site. The Red Kite twists and turns as it attempts to shake off the noisy aggressive birds. Suddenly the Kite drops and flies forward before once again climbing up and away from its pursuers. The loud cawing of the Crows follow the Red Kite as it drifts away.
The sweet smell of Hawthorn blossom fills the air and all is fresh and green as April passes into May.
---
Navigate through the Wild @ Rivers Diary Entries:     <<<Previous    Next>>>
Return to the wildlife home page.